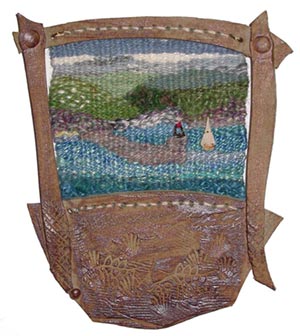 Weavings in ceramic frames.
This process starts with a lump of clay and a handful
of fibres. To make the frames I roll clay into slabs
cutting shapes, then pressing in plants and using
various tools to decorate the surface before firing
in a friends wood fired kiln.
I spin all the yarns using wool, silk, synthetics and
others. I mainly dye my own fibres using both
natural and chemical dyes.I weave scenes in the
frames, these are generated from local views
etc., I have photographed or previously seen.
Occasionally I weave the frames with a single colour
handspun wool and then either needlefelt the picture or
dye them in the frame, the images then become more of
an impression of a view. I usually add small ceramic
shells, starfish, sails, or flowers I have made in
clay giving depth to the atmosphere and illusion.
Themes occur but as each weaving is woven in its
own frame it is totally unique.
Please contact me for more details and commissions